LET US TAKE CARE OF YOUR FEET!, BOOTFITTING FOR UNMATCHABLE COMFORT ON THE PISTES!

Pain due to poorly fitted boots is not just annoying, it can also lead to knee, hip or back problems. Incorrectly adjusted equipment makes it more difficult to control the skis, reducing your power and ability to feel the snow. Bootfitting is an effective way of resolving these problems.
Sport's House is privileged to have in its team an expert with great experience in bootfitting, who can work on the slightest imperfections. In particular, in partnership with our supplier, we have developed an exclusive sole model.
Art Feet - Improve your feelings

We offer a free bootfitting service
for every boot purchased at Sport's House!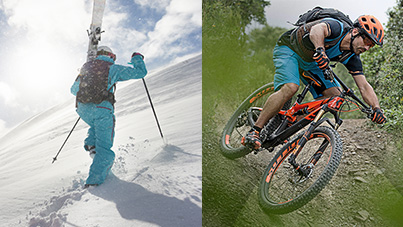 FOR PROS, NOVICES, SKIERS, HIKERS AND EVERYONE ELSE.

Whether you are an experienced sportsman, amateur or novice, bootfitting is an essential stage which ensures incomparable comfort for your feet. Come on in to our store, for a session with our specialist. 
Outside of the winter season, we also have plenty of hikers, cyclists (road/mountain) and golfers who come to us to get their sports shoes fitted properly.
We take our time with you. Please allow up to 1 ½ hours with our specialist.
To make sure your boot fits perfectly, we measure the width of your foot, the thickness of the heel, the shape of the malleoli, of the arches and any apparent vessels.
Based on this information, we choose a suitable boot together. We then thermoform the sock and expand the shell with a press or by countersinking.
For particular requirements, we mould manually on a made-to-measure sole. This technique further enhances comfort and provides better performance while limiting risks of injuries.
Ski-Mojo - Full test by Darren Turner